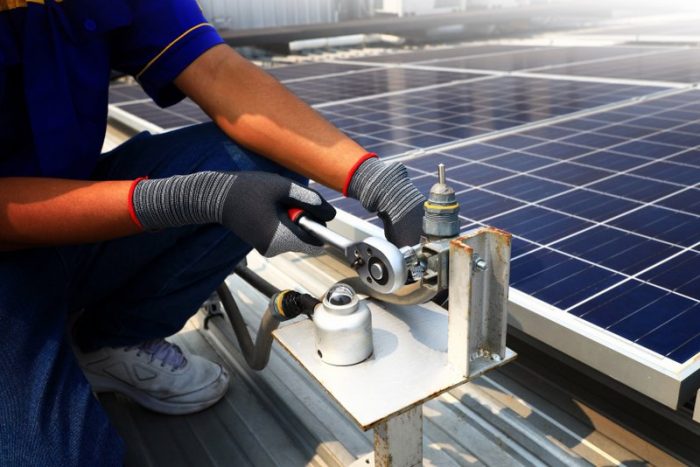 From small solar-powered LED lights to massive solar farms to wind turbines of all sizes, critical components must be able to withstand constant exposure to sun, rain, dew, humidity, wind and dust-free for the life of the system. . The challenge is that the internal components, electronics and wiring of solar panels, inverters, meters, cooling fans, racks and wiring, as well as wind turbines, rotor blades and towers are sensitive to corrosion and electrolysis, which can compromise operation. and lifespan. Accumulated dust can also obscure solar panels, reducing their effectiveness in collecting energy from the sun.
In response, industry professionals are turning to a unique anti-corrosion protector, cleaner and lubricant called StrikeHold. The spray was originally developed to preserve and maintain US military weapons and heavy equipment for use in some of the toughest working conditions in the world. Today it is used to protect printed circuit boards, electrical circuits and metallic components in corrosive environments while improving electrical continuity and contacts. The spray not only protects the wide range of renewable energy equipment made up of such components, but also extends its useful life and facilitates more efficient energy conversion.
The use of StrikeHold has the potential to largely eliminate the effects of moisture, corrosion and electrolysis in such equipment. The micro-barrier it forms on components is so complete that an electrical charge cannot pass from metal to water. It also improves electrical performance by cleaning and protecting contacts and internal parts, including circuitry and connections. Anti-corrosive protectant spray on clear or apply wet and dry in place.
The protector is designed to waterproof components and can even be used on equipment that has already been wetted in the field. Because it has a higher density than water, when applied to a wet surface it penetrates the hard exterior, pushing water from the surface and coating the area.
Since the cleaner has anti-static properties, dust, dirt and grime will not stick to it in the natural environment. Dust blown onto a treated surface blows away cleanly with wind or rain, leaving the coating intact. Because of this, the protector and cleaner are used on hundreds of solar light fixtures along a coal mine road in Brisbane, Australia, according to Daryl Bancroft, Managing Director of Alpha LED Lighting Australia. .
"Each light has a solar panel that keeps the light charged. Windblown dust, passing vehicles and coal trucks were very problematic for the solar panels," says Bancroft. "a completely dry protective film, it is protected and moisture, sand, dust and dirt does not stick to it. This eliminates a lot of preventive maintenance and allows the solar panels to be much more efficient in producing energy. energy for lights.
He adds: "The best preventative maintenance is to use the spray. I have found that it can be used in multiple industries, mainly due to the dry lubrication and micro-barrier characteristics that make this product very unique.
According to Bancroft, the mine occasionally reapplies the compound to the solar panels, but does not otherwise clean them. No failures were reported during the 12 months following the start of treatment. The mine plans to install additional solar lamps, which will be pre-treated and maintained with the protector and cleaner.
In another potential application, StrikeHold is being evaluated by a rural Alaskan maintenance company whose platform facilitates smart maintenance for solar, wind, battery energy storage systems. (BESS), micro-grids and standby diesel fleets. The compound is being considered for a variety of potential applications on 100 to 200 acre solar farms, including solar panels as well as cooling fans that can bring corrosive elements into contact with electronics and electrical equipment at inside the inverters.
---
Del Williams is a technical writer who lives in Torrance, California.
Have you checked out our YouTube page?

We have a ton of video interviews and additional content on our YouTube page. Recently we debuted Power forward! — a collaboration with BayWa re to discuss high-level industry topics as well as best practices/trends for running a solar business today.
Our longer side project is Field — in which we have awkward discussions with solar manufacturers and suppliers about their new technologies and ideas so you don't have to. We discussed everything from residential trackless bridge attachment and home solar financing at large-scale energy storage value stacking and new utility house solar micro-grids + storage.
We also publish our Project of the year ads there! Interviews with this year's winners will begin the week of November 8. Go ahead and subscribe today to stay up to date with all that extra stuff.