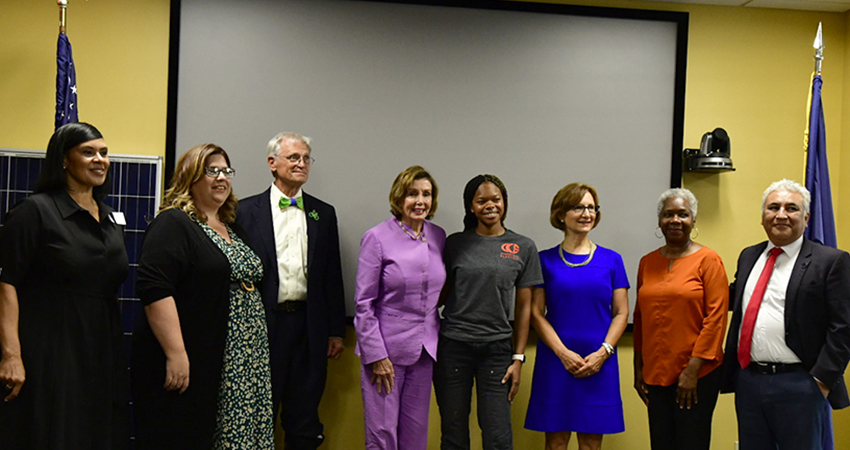 Left to right: Tracy Scott of Energy Trust, Charity Fain of Community Energy Project, Rep. Earl Blumenauer, Speaker of the House Nancy Pelosi, IBEW apprentice Alana Graves, Rep. Suzanne Bonamici, Portland owner Sammie Lewis and Ernesto Fonseca of Hacienda CDC.
Energy Trust joined House Speaker Nancy Pelosi and Oregon Representatives Earl Blumenauer and Suzanne Bonamici on Tuesday for a roundtable with community leaders to discuss the benefits of clean energy from the Inflation Reduction Act for Oregonians.
The federal Inflation Reduction Act passed last month represents the largest clean energy and climate investment in American history and is expected to help millions of Americans benefit from energy efficiency and renewable energies. renewable.
Tracy Scott, Energy Trust's Director of Energy Programs, was invited to speak at the event, which was held at the Energy Trust's office in Portland. She described the impact of Energy Trust's investment in clean energy over the past 20 years, which has helped create healthier homes, a cleaner environment, lower utility bills, jobs in clean energy and more resilient communities.
"Together, in partnership with the State of Oregon, utilities, business allied contractors, and community partners, we will be able to deliver far greater benefits by leveraging these transformational federal investments – helping us all to amplify our collective impact," Scott told the group.
The legislation includes provisions that support energy-efficient commercial buildings and promote prevailing wages and apprenticeships. In her remarks, Pelosi stressed the need to workforce development opportunities for women and people of color in particular.
"It will only be effective if there is justice – social justice, economic justice, environmental justice," she said. "And again, part of the economic justice is enabling women and people of color who hadn't been able to participate, and it's salaried jobs that prevail."
Rebates are also included to encourage Americans to install energy-efficient heat pumps, which also provide life-saving cooling in extreme heat. Rebates of $2,000 to $8,000, combined with Existing Energy Trust incentiveswill make them more affordable for more Oregonians.
There are also rebates for heat pump water heaters, heat pump clothes dryers, electric ranges, electrical panel upgrade to support new electrical appliances, electrical wiring upgrades, insulation and sealing.
On renewables, the legislation expands a federal tax credit for rooftop solar power and adds a tax credit for stand-alone battery storage systems.
Portland homeowner Sammie Lewis, who participated in the roundtable, received a heat pump and solar energy system from Community energy project with the support of Energy Trust this spring.
"Choosing renewable energy was the first step to controlling my own energy use," Lewis told the group. "Over the past few months, my bill (Portland General Electric) has been significantly reduced. And now I have a credit balance. I love it. I happily talk about it to my friends, my neighbors. I so appreciate everything the IRA has done and will do.