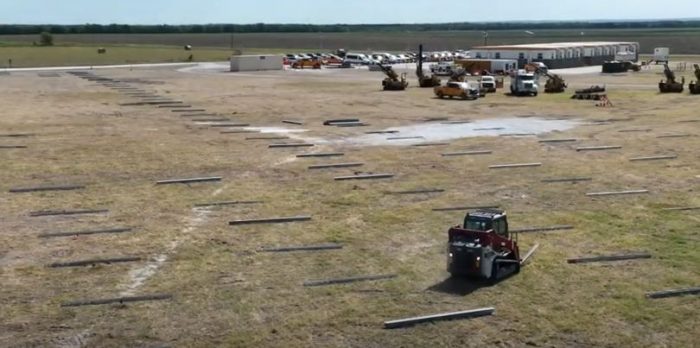 Construction of the huge Copperhead solar and storage project (150 MW and 100 MWh) in Falls County, Texas is underway and has a big buyer. During the inauguration, National Grid Renewablesannounced a 140 MW power purchase agreement (PPA) with The Hershey Company for Copperhead.
This is the second PPA between The Hershey Company and National Grid Renewables following the announcement of The Hershey Company's Noble Solar PPA in 2021. Edison Energy, a global sustainability and energy consultancy, worked with The Hershey Company on its environmental initiatives and National Grid Copperhead's selection of renewable energy.
"We have ambitious targets to reduce Scope 1 and 2 emissions by more than 50% and Scope 3 emissions by 25% by 2030 as part of our science goals," said Mark Kline, Director, Commodities and Specialty Procurement at The Hershey. Company. "We are making great strides towards achieving these goals through projects like Copperhead and the great work of National Grid Renewables.
Copperhead will use next-generation 6-series thin-film solar modules developed and produced by First Solar and a 100 MWh Fluence Gridstack battery energy storage system per Fluence Energy, Inc.., and is being built by contractor EPC TIC—The Industrial Company, a subsidiary of Kiewit.
Copperhead is expected to produce an estimated $25 million in direct economic impact in its first 25 years of operation, including the generation of new tax revenue, on-site operating jobs and the creation of an estimated $200,000 charitable fund. $600,000.
"Projects like Copperhead promote sustainability and economic vitality globally and locally," said Blake Nixon, president of National Grid Renewables. "Communities like those in the Falls County, Texas area can anticipate economic benefits for years to come from hosting renewable energy projects."
As announced in its recently released ESG (environmental, social and governance) report, Hershey is on track to meet its greenhouse gas emissions targets, having reported a 48% reduction in Scope 1 emissions. and 2 compared to a 2018 baseline and an 18% reduction in greenhouse gas emissions. Scope 3. The company's investment in three solar farm projects – including two through National Grid Renewables – plays a significant role in the progress made so far.
"We are proud to be part of the Copperhead Solar & Storage project and ready to get to work designing and building the system," said Mike Gammill, VP of Solar Operations at TIC. "National Grid Renewables is making tremendous strides in advancing solar power generation, bringing a clean, reliable source of power to Falls County, Texas that will have a lasting positive impact on the community."
Key words:
utility ladder